Resttrykk.
I forbindelse med helgens utstilling på Stiklestad ble det trykt opp en del bilder for salg. Det ble igjen noen trykk fra messen som jeg legger ut for salg her, alle trykkene er trykt på 300 grams fotopapir, meget god kvalitet med andre ord.
Begrenset antall, så her er det først til mølla, frakt kommer i tillegg.
Del gjerne.
Send meg en mail om hvilke du er interessert i, klaug@hotmail.com, eller bruk denne linken: http://www.kennethlaugen.com/?page_id=665
PRIS:
1 trykk: 199.-
Kvantumsrabatt for:
4 stk: 700.-
8 stk: 1.300.-
12 stk: 1.800.-
"The Source"
19 x 24 cm
"Memories"
19 x 25,5
"No Fear In The Color Of The Heart"
19 x 25,5 cm
"Too Close"
19 x 24 cm
"Callback"
19 x 24 cm
"Starchild"
19 x 27 cm
"Revelations"
25 x 19 cm
"Center Of Attention"
24,5 x 19 cm
"Silent Redemption"
26,5 x 19 cm
"A New Beginning"
24 x 19 cm
"Futuristic Cityscape"
27,5 x 19 cm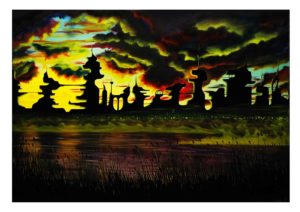 "Learning To Fly"
27,5 x 19 cm
"Behind The Veil"
26,5 x 19 cm
"The Mothership"
23,5 x 19 cm
"Legacy"
25,5 x 19 cm
Du kan også kombinere med trykk av erkeenglene om det er ønskelig.
Alle erkeenglene har svart kant rundt bildet og er i størrelse 19 x 23 cm. Begrenset antall her også.